What is PeekQuick?
PeekQuick helps companies manage channel execution at scale. Collect data from the field using our network of thousands PeekQuick users and react in realtime!
It is the strongest platform in Poland that brings the advantages of crowdsourcing to market research.
We are happy to hear about new cooperation perpectives!
The biggest part of our website is available in Polish only, because till now we have been developing our business on our home market. If you would like to get more information about PeekQuick and you don't want to study Polish, email us (info@peekquick.pl).
How it works?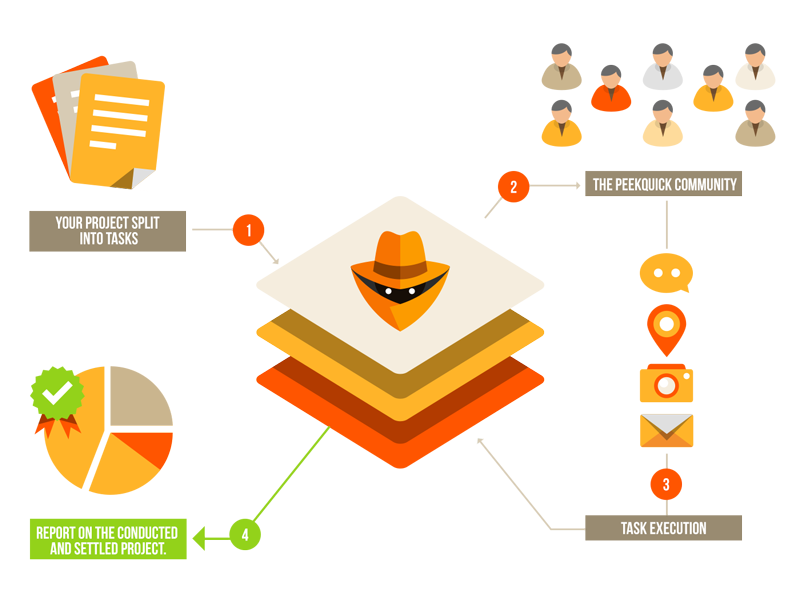 What you can check?
1
Relationship building
Customer service quality
Customer satisfaction
Sales skills
Timeliness
2
PRODUCT
PLACEMENT
AVAILABILITY
PRICING
MARKING
3
PROMOTIONAL ACTIONS
MATERIALS AVAILABILITY
Giving the right information
plan Implementation
Internal use

What's important - we also developed a version of PeekQuick, which is dedicated for internal use only. The data from the market is delivered by your own workforces instead of our distributed network of users. Our mobile technology allows you to better manage the distribution and shorten the time to both the resolution and the revenue. For more information email us (info@peekquick.pl)!